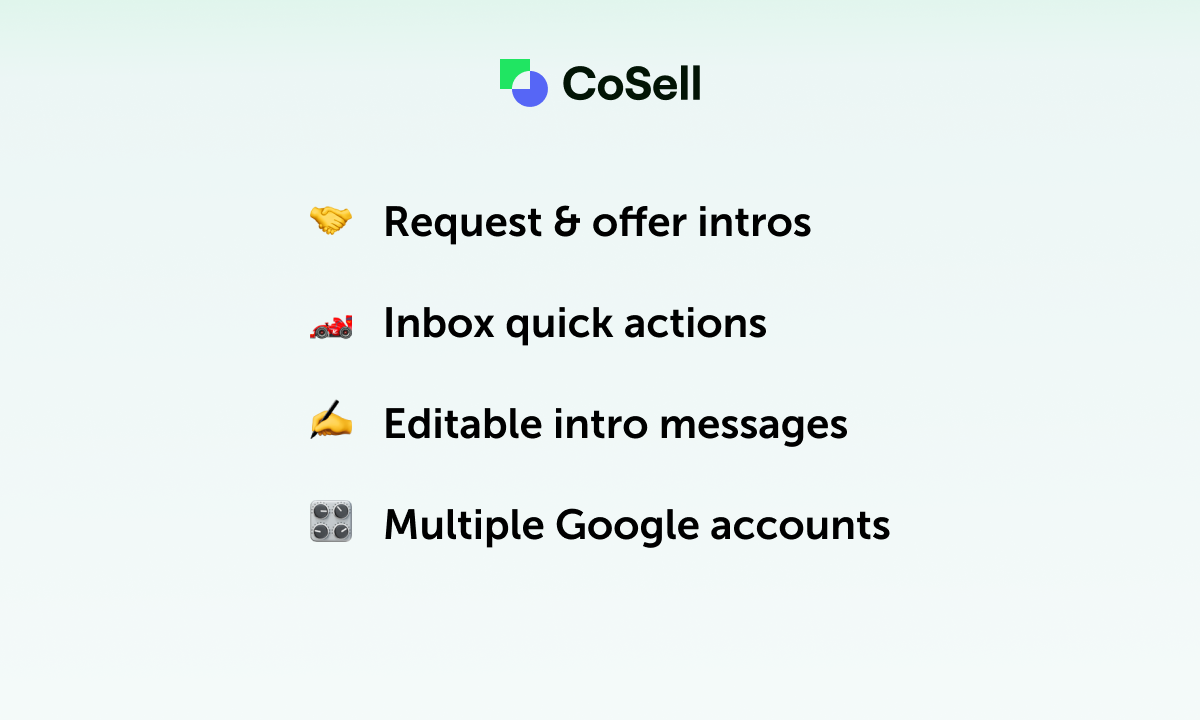 DATE:

AUTHOR:

CoSell development team

RELATED ROADMAP ITEMS:
DATE:
AUTHOR: CoSell development team
It's been a little over a month since our last announcement, and there are a lot of improvements to share: we've built new ways to discover intros, allowed for better customization, and spruced up some designs
Request intros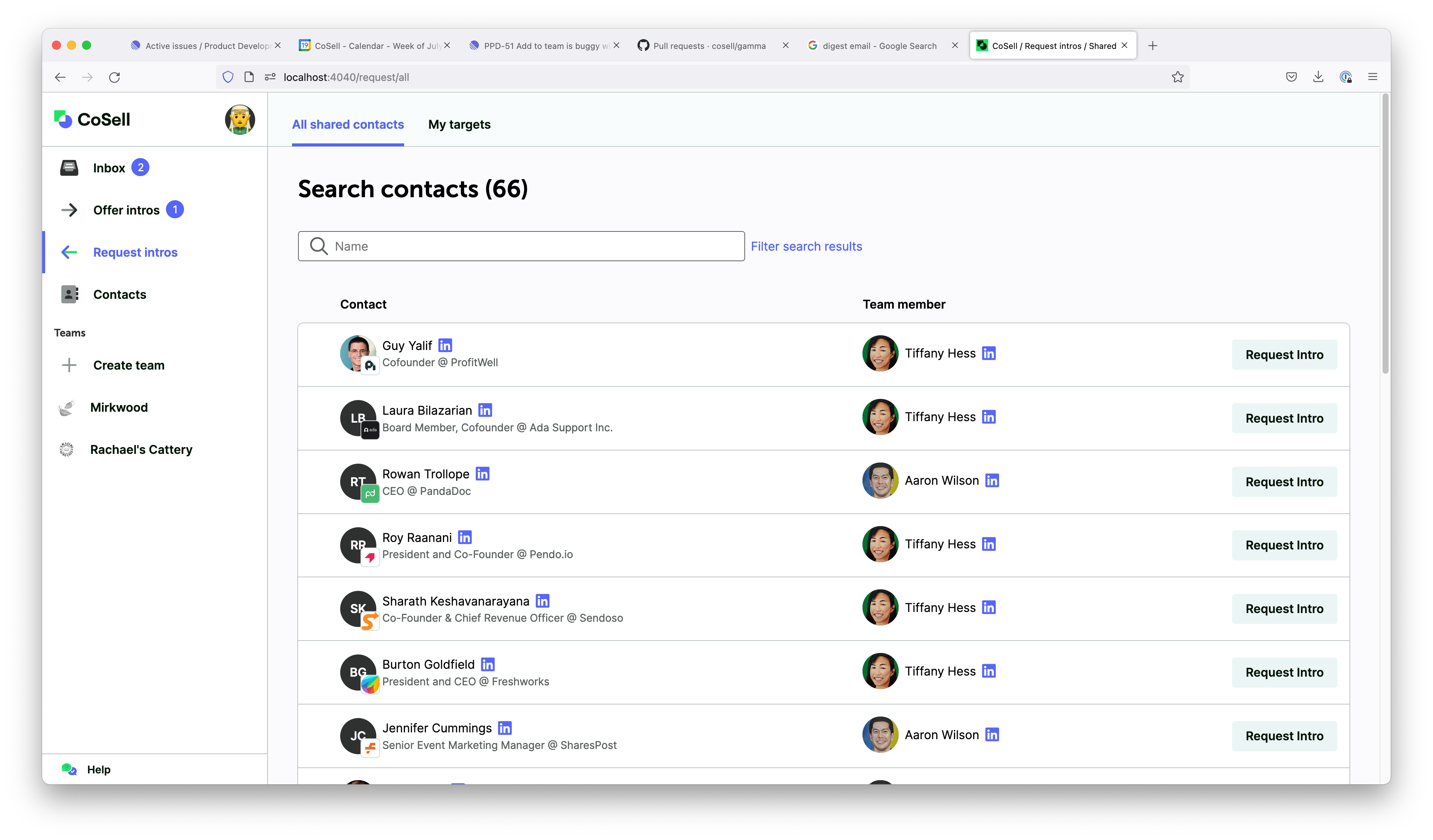 We've removed the opportunities page and added request intros in its place, where you can search/filter contacts to find opportunities and request intros. You can start with the full list of contacts shared with you, or view only those at your assigned target accounts.
If you prefer to sit back and passively get pre-screened intro opportunities, don't fret! Those now appear as intro offers in your inbox.
Offer intros
The matches page has been replaced with offer intros, where you have two different ways of proactively offering intros to your team.
Offer intros > Recommended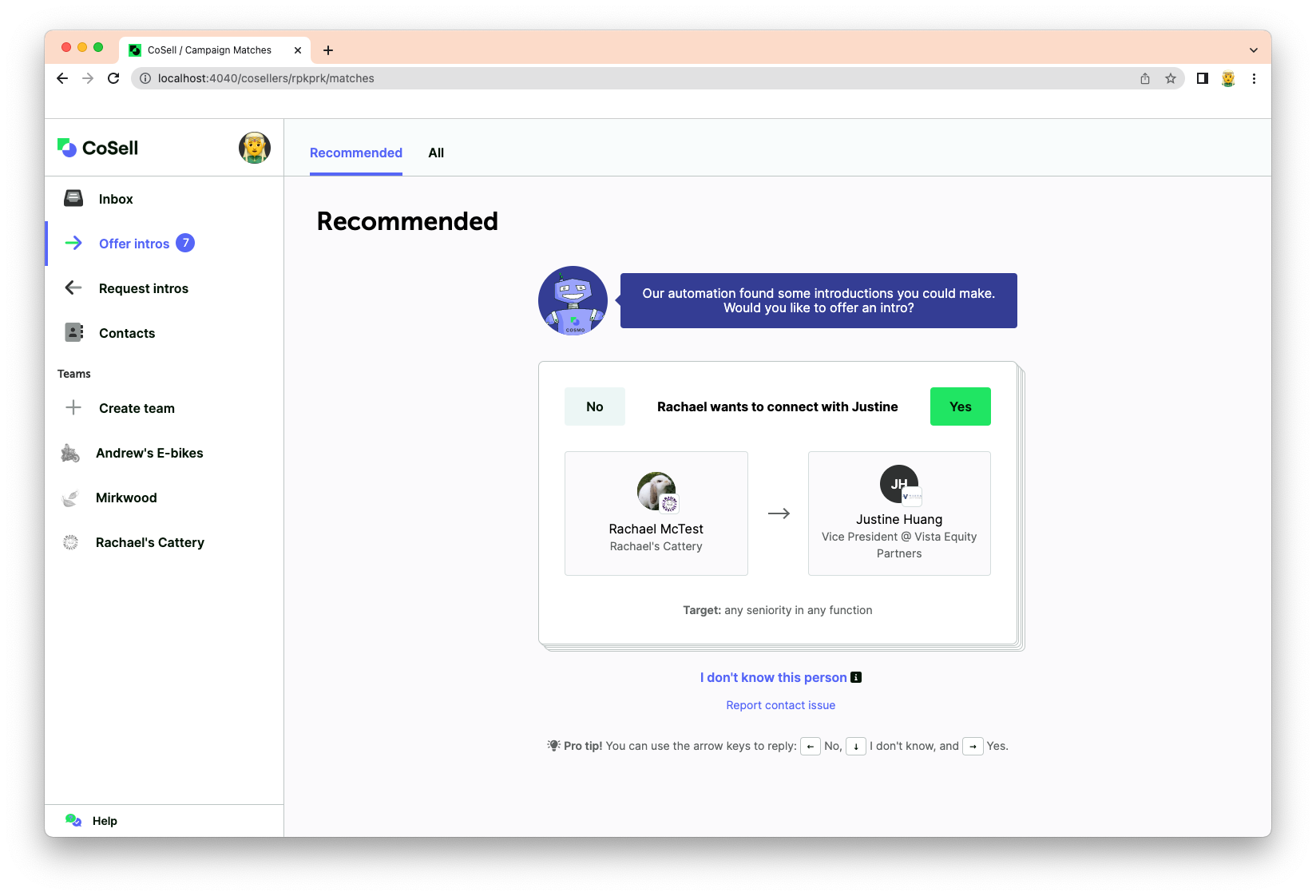 The recommended tab might look familiar: this is the same experience as the original matches page. Here, you can view campaign matches one-at-a-time and decide whether to offer the intro.
While we were in there, we also spruced up the look of the match cards to make it easier to tell which teammate an intro is going to.
Offer intros > All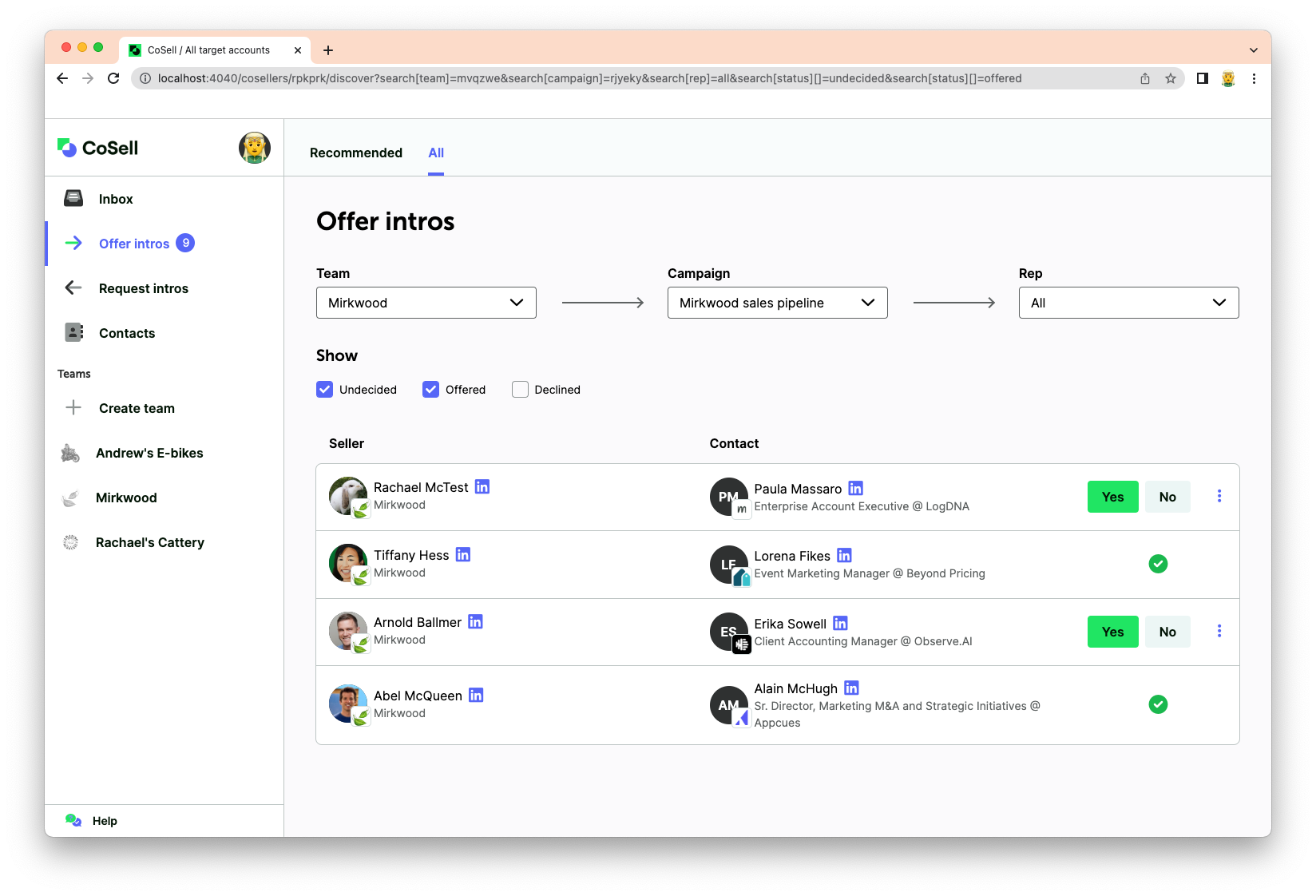 The all tab shows a list view of all your campaign matches, where you can filter to show intros for a specific team, campaign, and/or sales rep you want to help. You can also show intro recommendations you've already offered or declined, and give quick answers to the ones you haven't decided on yet.
Quick inbox actions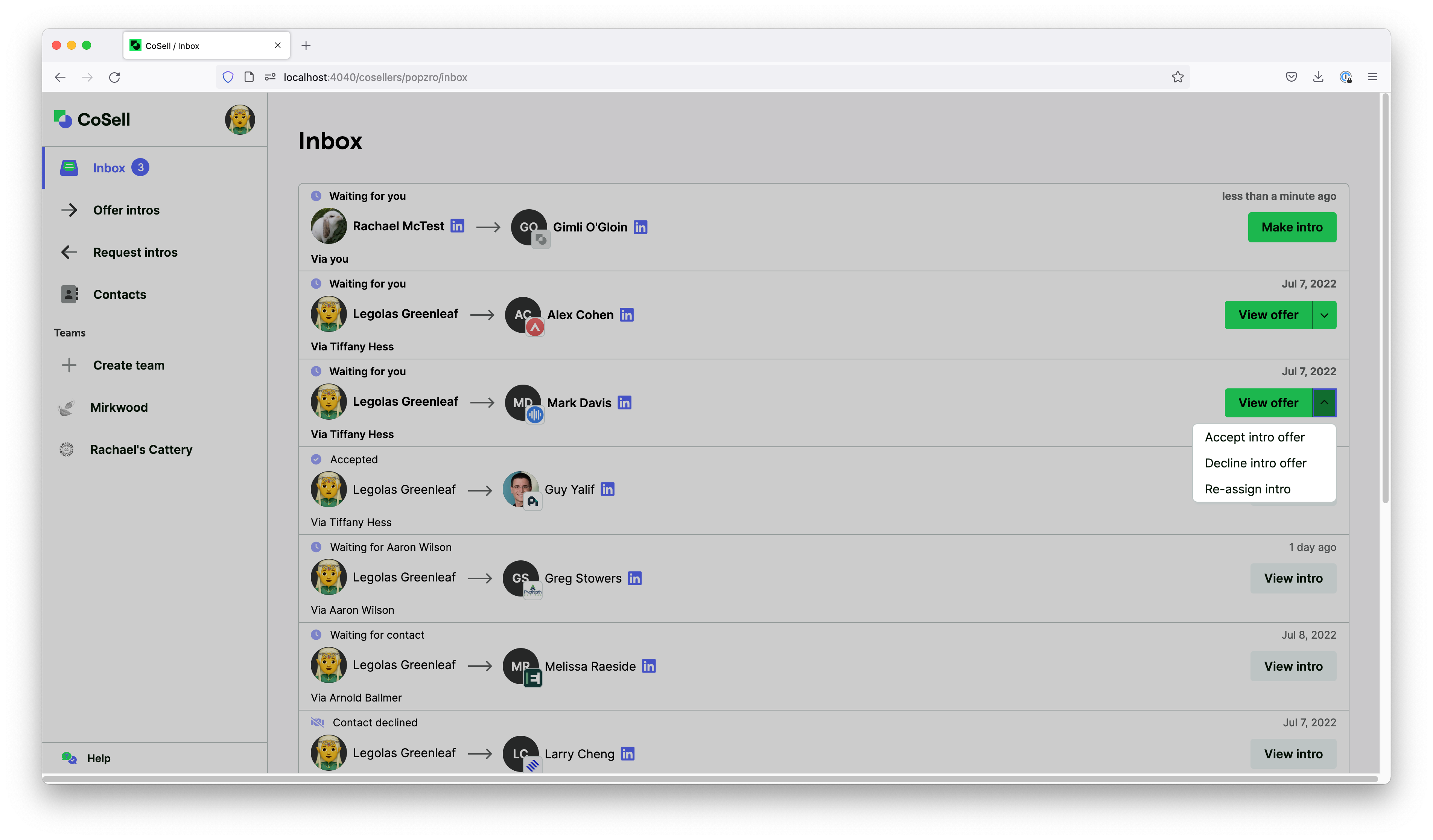 We've updated the inbox buttons to let you take quick actions on intros without leaving the page:
For intro offers, instantly accept or decline. Accepting an intro offer this way uses the "Accept intro offer" message template configured in your settings; if you want to customize the message before accepting, you can still click through to view the offer and compose a unique message.

For intro requests, you can also instantly accept or decline. You'll still need to click through individually to make the intros you've accepted, but when you have a lot of pending requests, it can be nice to decide on them all in one fell swoop

If you are the intro recipient, you can also re-assign a particular intro to go to another team member. This can be handy if you're the default recipient on a campaign!
Editable intro messages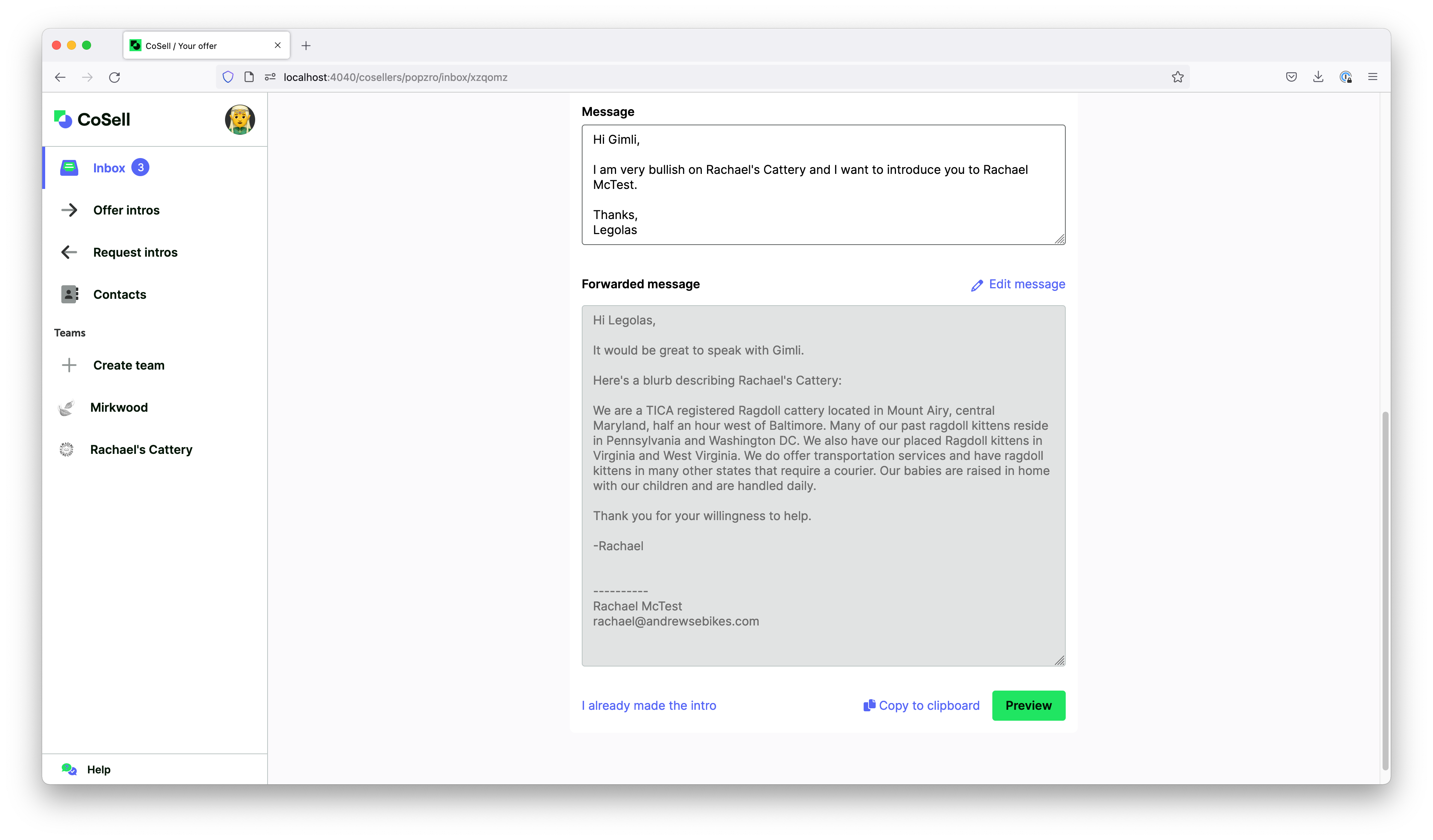 Now that you can accept intro requests without reviewing their included messages, you may occasionally need to tweak some wording before making an intro. We now let you modify the forwarded message text before sending an intro email, so you have more control over the messaging shared with your contacts.
Multiple Google accounts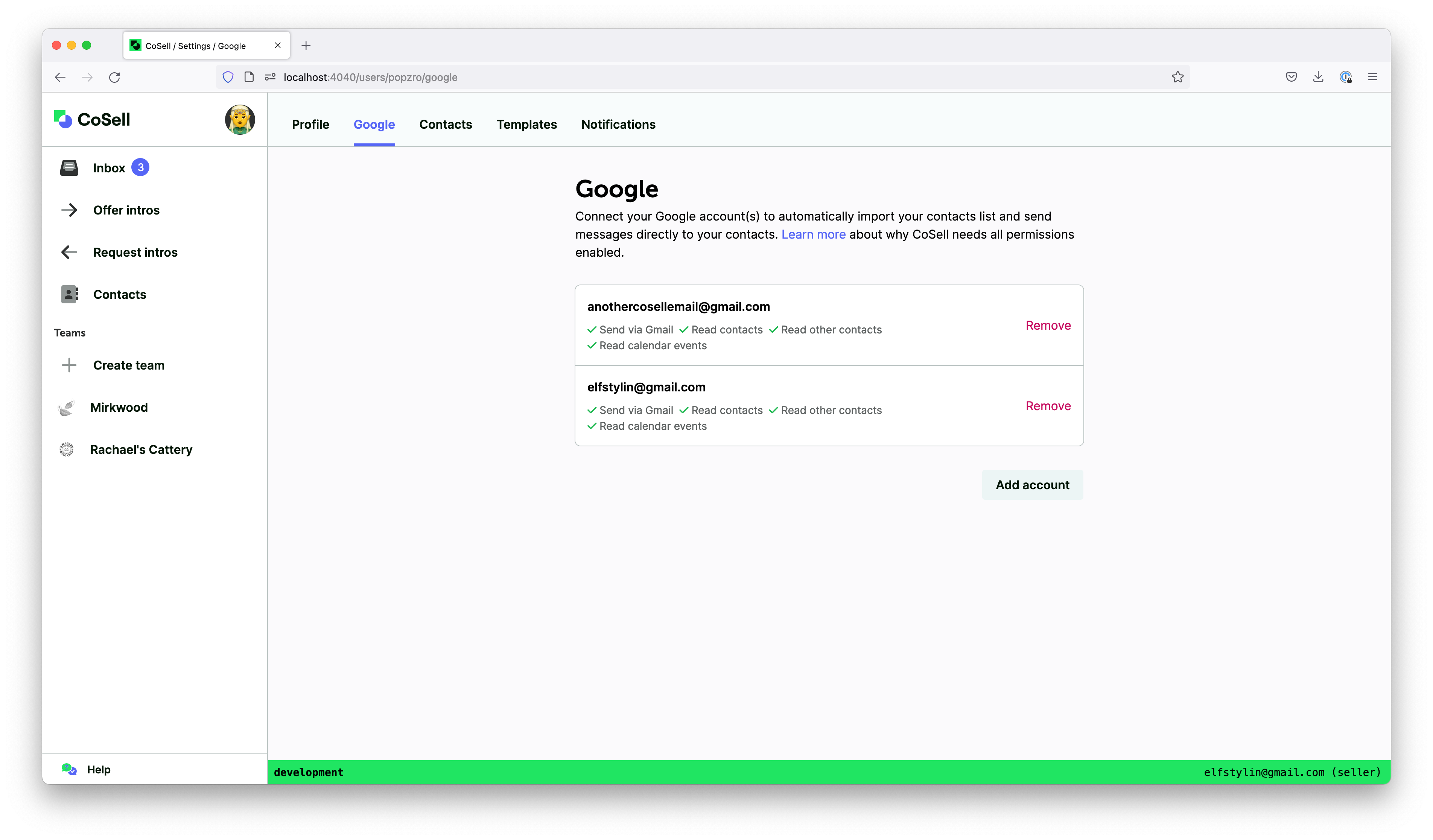 You can now connect more than one Google account to the same CoSell user. This lets you combine multiple address books to build your contact list, and also gives you the option to choose between connected Gmail accounts when sending intro emails.
Minor improvements & bug fixes
  We de-cluttered several pages with a new tab layout that takes up less space at the top of the screen.

  When you choose to auto-generate target accounts on a campaign, there is now also a button to let you manually add accounts to the list.

  You can now dismiss recommendations for teammates to invite, so we'll stop suggesting you add yourname+test1234@yourdomain.com and long-departed coworkers.

  We now send out a weekly reminder with a summary of intros waiting on you, so you won't miss out on opportunities.

  Navigation change: the link to user settings has been relocated to the menu that pops out of your avatar.

  We've also done a lot of small touch-ups that would be too boring to list here, but some highlights include:

updated intro email preview that's easier to read

accessibility improvements for links