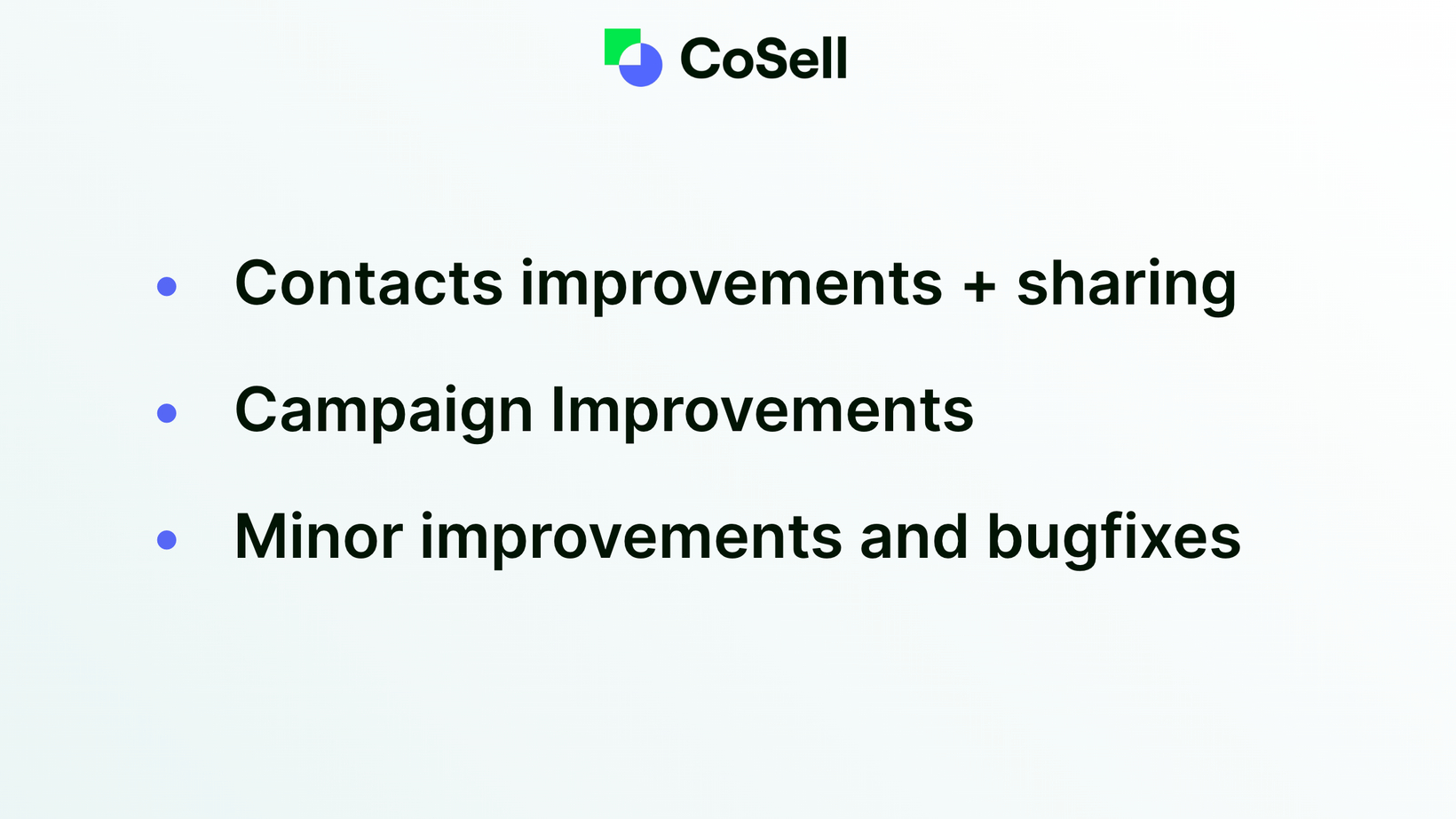 DATE:

AUTHOR:

CoSell development team

RELATED ROADMAP ITEMS:
DATE:
AUTHOR: CoSell development team
We've released a lot of new features and refinements over the past month, including improvements to contact management, sharing, and campaigns. Read on for details!
Contacts improvements + sharing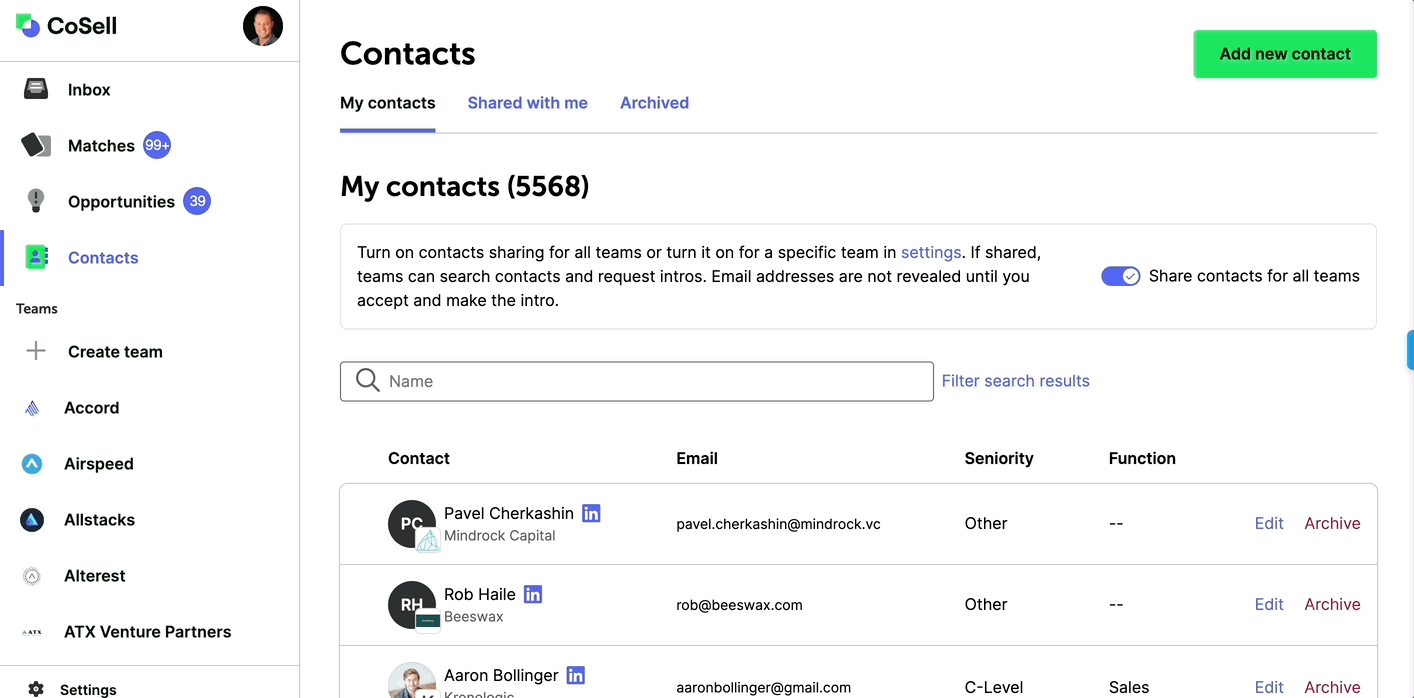 We're working hard with our users to find the best balance of supporting user relationships and workflows while also fully protecting privacy. As you can imagine this is a challenge in an app that's all about collaborating around contacts
.
In CoSell, contacts are private by default. We think this is the right default so that nobody accidentally shares contacts when they didn't want to. For users who don't want to share their contacts directly, our automation lets you see where you can offer intros and make connections without revealing that to the other party until you approve the match.
But some of you have told us you really do want to hand over your address book to another person and let them search for contacts they'd like to meet. To support this workflow we've made several changes:
We moved contacts to the primary nav so it's easier to find and manage.

We created a new opt-in setting to let you share your address book with teams you trust.

We've added a new section for contacts that have been shared with you, and given you the ability to directly search and request intros from these contacts.

We added function and seniority data to your contacts and made this searchable, which helps you organize your own contacts and also improves your ability to filter shared contacts.
We hope this makes it easier for you to work with the teams you trust the most.
Campaign Improvements
Campaigns are the center of CoSell. They drive the automation that generates matches and are the leading source of intro activity. We've made a number of improvements that we hope will make campaigns easier to set up and more effective.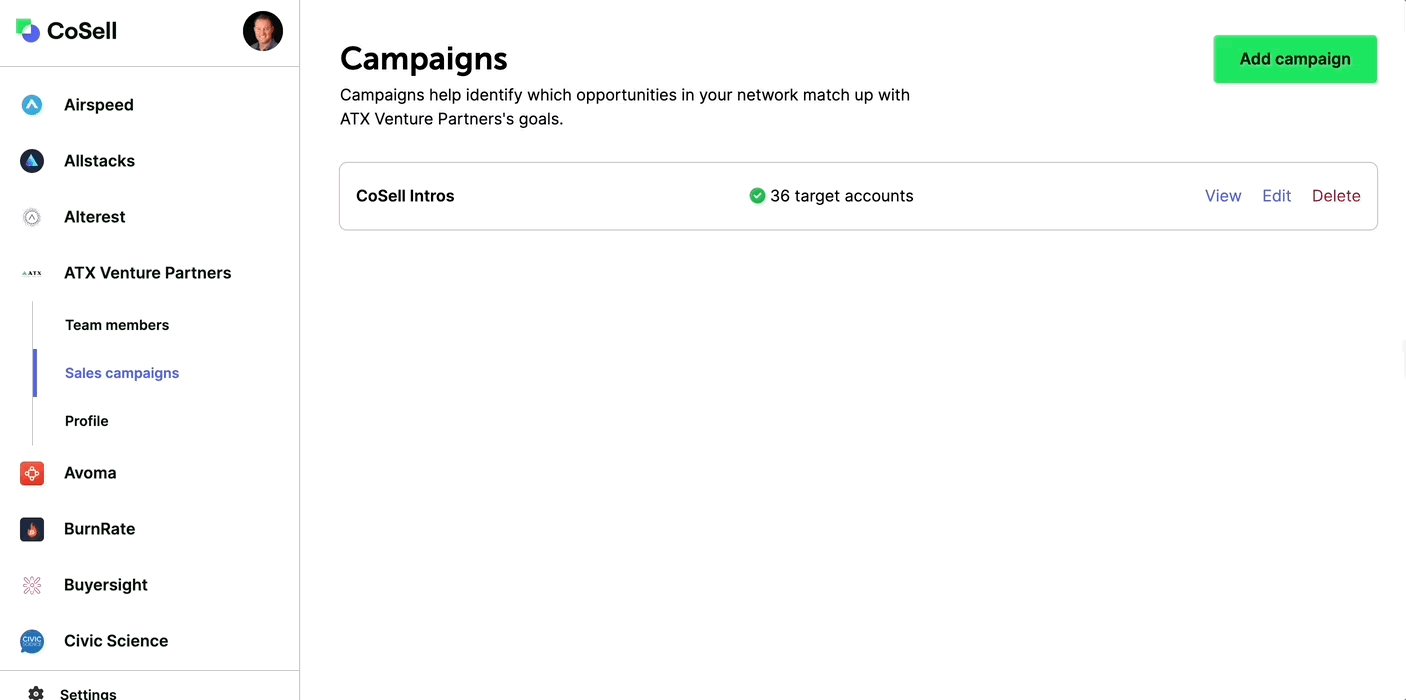 Users can now offer intros from campaigns. In the campaign view, you can see any target account matches in your contacts and directly offer an intro from the campaign view. This should make it easier for users who want to proactively make a lot of intro offers, or very targeted intro offers, rather than waiting on our match algorithm to find and suggest a specific match.

Previously the list of target accounts was optional, but testing with users showed that we were generating lower quality matches on campaigns that didn't have an explicit target list. We've changed the behavior so that matches will not be generated without an explicit list of target accounts.

For teams that want to quickly generate a list of targets and don't have a CSV handy, we've added an autogenerate feature that will search our database of companies and find 50 that match your search criteria. You can keep pressing the button to add another 50 at a time, and once the list is generated you can edit it to fine-tune the results.

In the past, if a target account did not have an assigned owner, any intro offers for that account would be automatically sent to the person who created the team. We added a default intro recipient to campaigns to give teams control over who intros should go to in this case.
Minor improvements and bugfixes
"Archived" tab that lets you view removed contacts & restore contacts removed by accident.

Users can now "archive all" and have a blank slate with contacts

Combined the two inboxes into a single inbox with an updated design

Updated the list of options for decline reasons when declining an intro

Improved matches & opportunities empty states with a better explanation of what the pages are for and how to use campaigns to generate matches.

We stopped using a third-party vendor for our Magic Link login. Moving this in-house should help the magic link emails not land in your promotions tab and help those emails be easier to find.

During signup, we now include more information about how we use Google account data.

We've made improvements to how we display and enrich your contacts, including fixing bugs that affected some users.

We've made improvements on how matches are generated and increased the match rate from 10 per day to up to 50 per day.

We also worked a lot on changes behind the scenes to make it easier for us to support our customers and to showcase what CoSell can do for new and prospective customers.