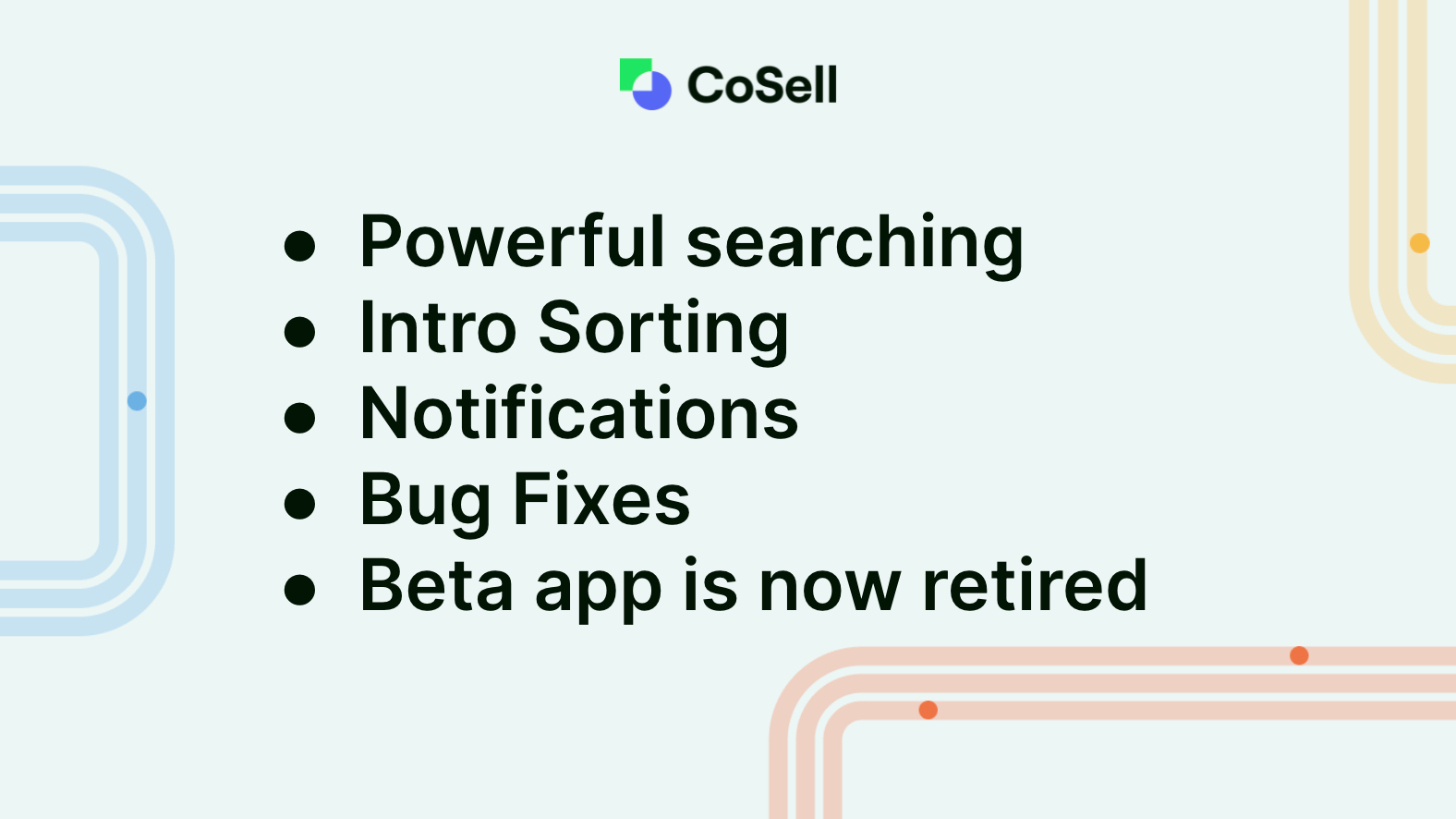 DATE:

AUTHOR:

CoSell development team
DATE:
AUTHOR: CoSell development team
Happy New Year, everyone!
The product development team worked hard right up until Christmas to bring you some big improvements to the CoSell app. And unfortunately I do mean right until Christmas, as we had an unexpected bug that we spent a good chunk of Christmas Eve working on 😬.
As you've probably noticed, we name our major releases after constellations. During the transition from v2 (Beta) to v3 (Gamma), we were making so many changes that we stopped that for a bit. Now that v3 is live and in your hands, we're back to our constellation theme. We've got a very long list of these to pull from, and they're sorted alphabetically, which makes Andromeda our first big update to CoSell v3.
We're really excited for all the new stuff that has shipped recently. Read on for details!
🔎 Powerful searching
The big theme for Andromeda was powerful searching. One great thing about CoSell is the number of intro opportunities we're able to surface, but the tradeoff is there are too many to effectively browse. Our customers need to be able to carefully search for the right intro opportunities to get the most out of the app. And now they can!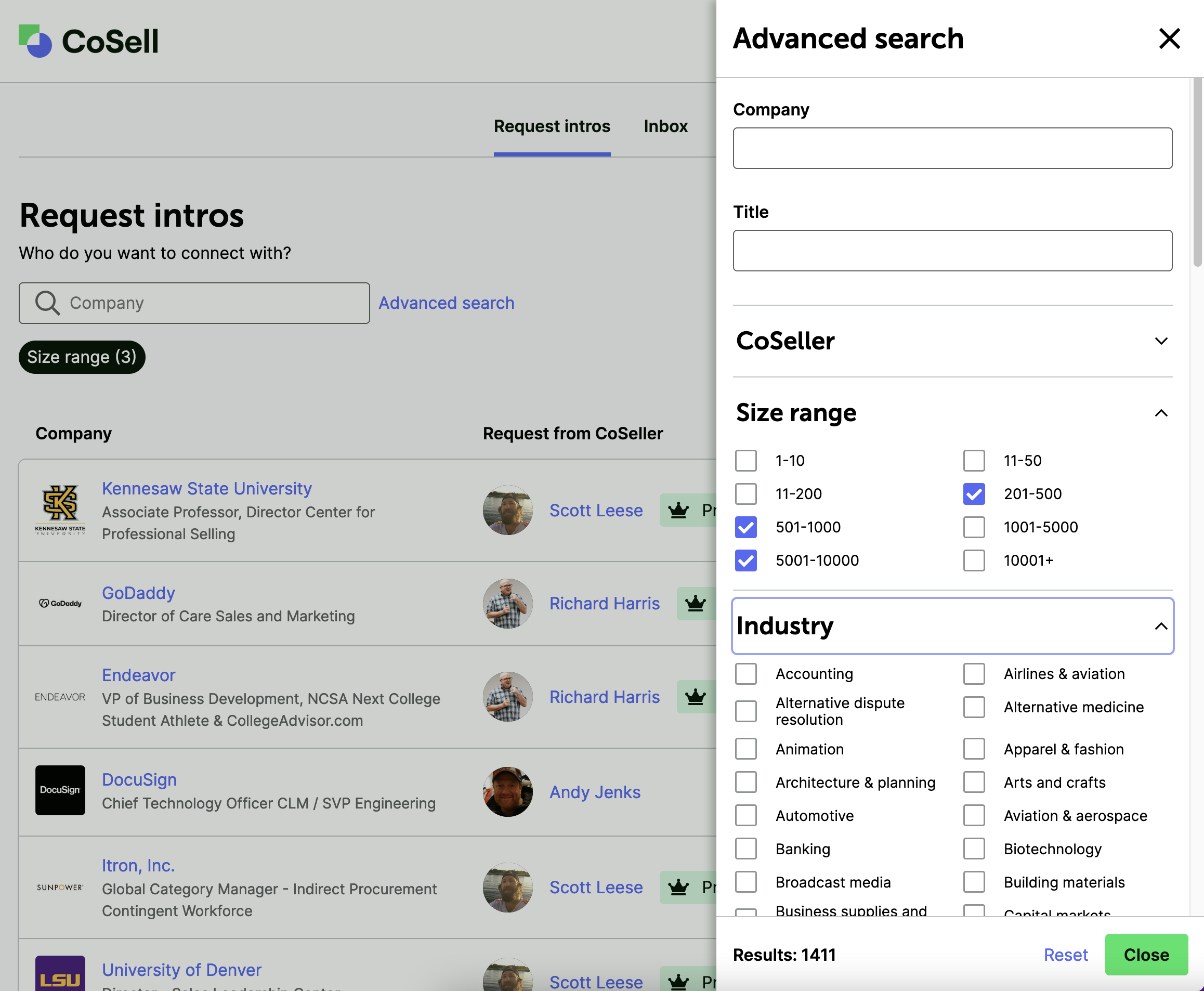 We've added added an advanced search bar that allows you to search and filter on contacts and intro opportunities. This is available anyplace where intro opportunities or contacts are shown, so it should help both Sellers making requests and CoSellers making offers.
We've also added additional search dimensions for company size, company industry, and contact seniority and function. It's been a fun adventure figuring out how to source this data and keep it up to date, and we're still making improvements here, but we're pleased with how well this first cut came out. We think you'll really like it.
🔝 Intro Sorting
Along with better searching, we added better sort options as well. We added a new company size dimension on intro opportunities and changed the default sort to list the largest companies first.
Intro opportunities can also be sorted by company name, CoSeller name, or most recent.
This combines nicely with our powerful searching improvements to make it easier for Sellers to find the best opportunities.
💬 Notifications
CoSellers can make both "single opt-in" and "double opt-in" intros. Before our notifications weren't clear on which option the CoSeller had chosen, so Sellers didn't know if they were waiting on the target contact to respond.
We've updated our email notifications to make it clearer when a CoSeller is waiting on contact to opt-in to an intro.
🐞 Bug Fixes
We fixed a lot of little things, and a few big ones:
Fixed an error where users would sometimes get a 404 page after clicking on the link to an intro in their email notification.

Fixed an error where users would sometimes get a 404 page after using the app for more than ten minutes at a time (😳).

Fixed a bug where users could get a 404 if they were using the app at the same time as we deployed a new version.
🤔 Sensing a theme here? There were a lot of things causing 404 Not Found pages last month. Long story short, users are now a lot less likely to get "lost in space". 🧑‍🚀
💤 Beta app is now retired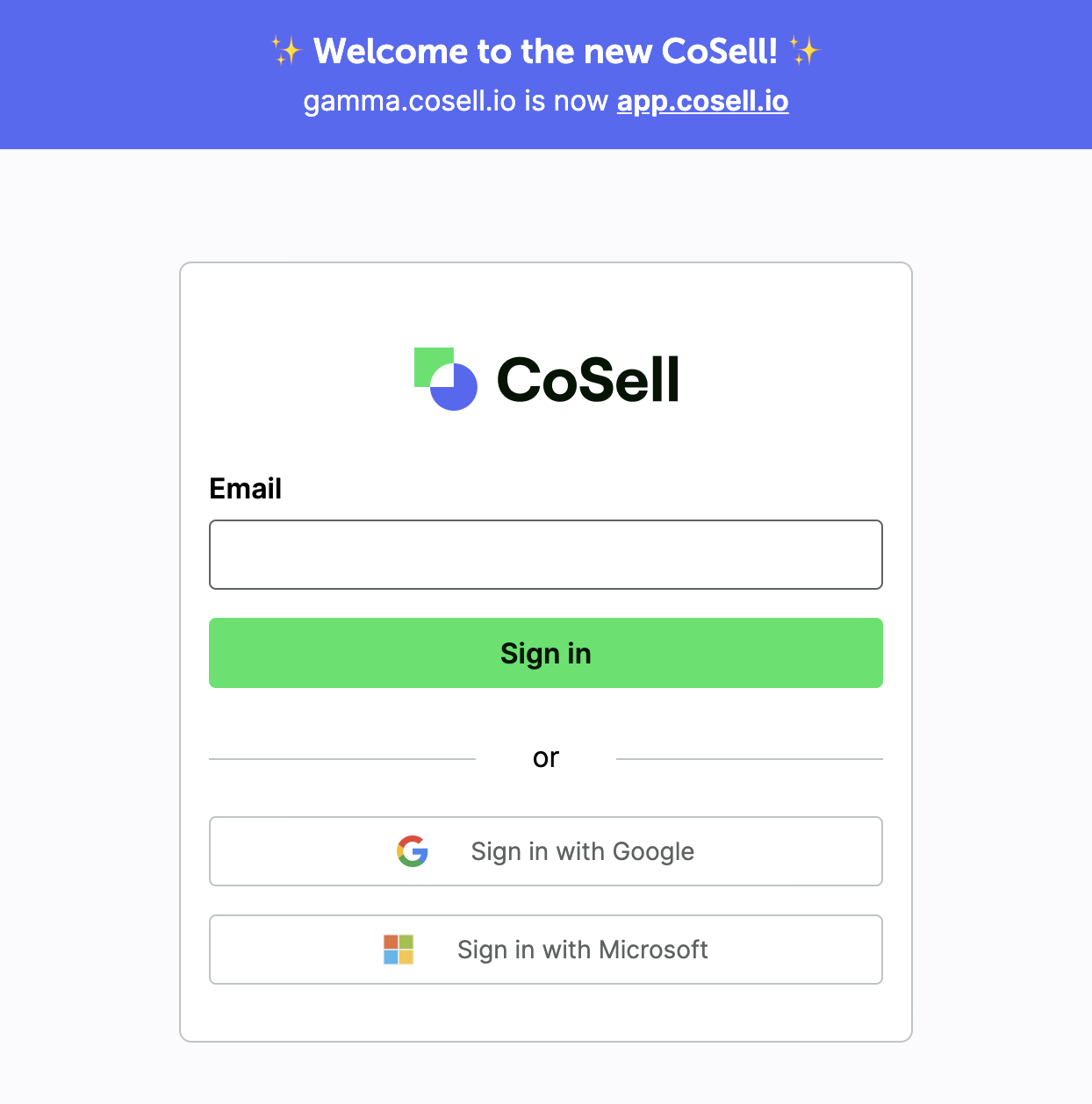 CoSell v2 (Beta) was awesome and we learned a lot from it, but its time had come. The Beta app is now officially retired, and app.cosell.io now points to CoSell v3 (Gamma). I tried to find a cool image of Mir deorbiting since that would have been on-theme, but I guess it wasn't really caught on camera. There's some cool fan-art, though!